What is the difference between doing the right job and doing the job right? I believe there is a big difference. I recently posted a picture on LinkedIn of a job that was completed at my house. The post garnered more than 18,000 views, so obviously it hit a nerve with a lot of folks.
I needed a gas meter replaced on the exterior of my house. Two young technicians came out to do the work. They arrived early in the morning and looked at what they needed to replace the old meter. They told me they had to go to the store to pick up materials and would be right back.
Six hours later, they returned. They changed out the meter, then knocked on the door to let me know they were done before going on their way. The job took about two hours to complete. Two days later, I went out to check out the work. This is what I found: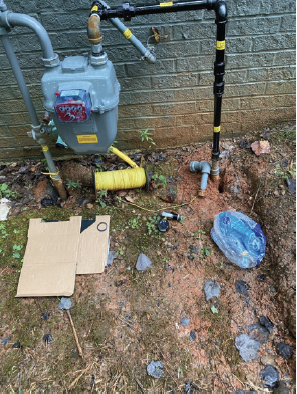 This work is completely unacceptable. The job is not complete until the work is done correctly and the job site is cleaned up. I called the HVAC company to complain, but nothing came of it.
Is this an example of getting the right job done or doing the job right? The right job was to replace the meter. Doing the job right was installing the meter correctly and picking up the leftover materials and packaging.
Over the last couple of years, I needed to have a windshield crack repaired. A technician came out to do the work, and not only did he repair the damage. He then proceeded to vacuum my truck entirely.
Fast forward to last month. A new crack occurred when a semi kicked up a rock that damaged my windshield. I called the same company to come out and repair the damaged windshield. The technician came out and repaired the crack, but he left with no notification that he had completed the work. There was no vacuuming, but he did leave a few materials on the driveway. Doing the right job or doing the job right?
Monitoring maintenance 
By now, most managers and many front-line technicians in institutional and commercial facilities are familiar with the practice of continuous improvement. One key element of such improvement is understanding where improvement is needed to ensure maintenance improves.
Technicians need to take personal pride in the work they do each day, and supervisors occasionally should audit the work technicians complete. Supporting the process are maintenance planners who review work orders for completeness, actual time spent on the job, materials and tools accounted for, and feedback from the technician doing the work.
Consider this: 63 percent of maintenance activity is self-inflicted, meaning maintenance caused more maintenance. Technicians always find the time to do a job again, but they rarely seem to have enough time to do it right the first time.
When I worked in Western Texas, I had the pleasure of working closely with a maintenance manager named Bill. I attended a morning shift meeting where Bill handed out job assignments. When he handed one of the technicians a work order to repair a pump that had failed overnight, the technician told Bill he had been out to the job site the day before to repair the same pump. Without hesitation, Bill said, "Yesterday, you worked on it. Today, I want you to fix it." Instead of calling them work orders, maybe we should call them fix orders.
Maintenance departments waste about 33 percent of a typical budget on poor maintenance practices. There are numerous reasons for this.
In some cases, managers do not develop detailed job plans and instead let technicians wing it. If a correct part is not available, technicians use duct tape and bailing wire to perform temporary repairs that turn into permanent fixes. They might have done a great job of troubleshooting, but they did a lousy job of determining root causes. They did not take enough time to fix it right the first time.
In other cases, a department's technicians just do not have the appropriate skills and competency. These are just a few of the reasons I have seen that departments waste too much time and money on maintenance.
Making it right 
How can managers make sure technicians do the job right?
Audits. Randomly select work to audit. Look to see if the job was done safely and correctly, and the job site is cleaner when they started the job.
Ask the customer. After the work is completed, ask the requestor or area in which the work was completed for feedback. Several organizations I work with actually have the requestor or department supervisor sign off on the work order, confirming that they accept the equipment or the work completed.
Implement 5S standards. I am a strong advocate for implementing 5S strategies in the workplace. These strategies include:
Sort. Get rid of the junk.
Set in order. Organize.
Shine. Emphasize cleanliness and housekeeping.
Standardize. Define the acceptable standard.
Sustain. Educate, train, and audit.
I have never heard a maintenance manager say, "Sure, go ahead and throw that junk out." In fact, it's quite the opposite. Most managers choose to keep leftover job materials because technicians might be able to repair them or take parts from them.
Defining a standard for clean and organized is simple. Take the example of one of my former colleagues who had two young daughters. He would ask the girls to clean their room before going out to play. It's funny what is acceptably clean to 12-year-old girls or boys compared to their parents. My colleague held a Kaizen event one afternoon in their bedroom. Once done, Mike took pictures and posted them on the bedroom door. It might have been a bit overdone, but it established a standard for the appearance of a clean room.
Finally, managers need to sustain all the hard work they achieved with the other steps. The way to sustain the gains is to audit technicians' work and change the culture of the organization. Take critical steps to ensure technicians take pride in the work they do.
There is a big difference between doing the right job and doing the job right. No one wants to clean up after someone else. No one wants to do rework. No one wants to continually struggle with the same failures over and over. Technicians need to take pride in their work to the point where it becomes a badge of honor.
Andrew Gager — [email protected] — is CEO of AMG International Consulting. He is a professional consultant and facilitator with more than 20 years of partnering with organizations in achieving strategic objectives and goals. 
Andrew has been recognized as an industry leading expert in facilitation, global implementations of operations best practices, maintenance systems, and supply chain with over 20 years of industry experiences ranging from warehousing operations to plant management and over 20 years of consulting and facilitating trainings. Mr. Gager has worked extensively in the manufacturing, oil & gas, food & beverage, facility management, power gen, pharma, and transportation industries. Andrew specializes in optimizing operations, maintenance best practices, materials management and has facilitated dozens of international improvement initiatives. Currently Andrew is the CEO of AMG International Consulting, Inc. where his focus is developing, implementing, and supporting reliability-based solutions within the overall Asset Performance Management system.
As an accredited "Certified Maintenance Reliability Professional" (CMRP), "Certified in Production and Inventory Management "(CPIM), "Certified Reliability Leader" (CRL), "Six Sigma Green Belt" (CSSGB), and Certified Asset Management Assessor (CAMA). Mr. Gager holds a BS degree in Business & Operations Management from Rochester Institute of Technology